Volkswagen 2020 Chicago Auto Show News

It's February, which means that the Chicago Auto Show is back once more. The Detroit Auto Show was moved back further into the year, which makes the Chicago show the first major show of 2020! Volkswagen covered exciting updates regarding plans for electric vehicles, as well as highlighted the 2021 VW Atlas and Atlas Cross Sport model. Learn more about what's in store for VW at the Auto Show this year, and keep up with Volkswagen throughout the year with Volkswagen Of Oak Lawn!
Volkswagen Auto Show Display
The Volkswagen auto show display highlighted the Volkswagen Atlas Cross Sport, which was shown in bright orange, blue, and green colors. The 5-seater Atlas Cross Sport midsize SUV is expected to hit dealerships later this spring. While the Atlas Cross Sport test track wasn't in swing for the show's media day, visitors were allowed to tour the the vehicles inside and out while the staff prepped the track for the following day. A variety of favorites from the lineup were displayed, though the highlight was the arcade game-style Volkswagen Golf GTI track challenge.
VW Press Conference
Things went into full swing at the 11:30 a.m press conference on February 6th. Chief Operating Officer Johan de Nysschen took the stage to talk a bit about how Volkswagen was preparing to embrace change within the auto industry. He even described it as the brand's "most exciting time in America" and mentioned that the "time's right for Volkswagen."
The "exciting times" he referenced referred to the future of electric vehicles. He likened VW to a "driver of change" rather than a victim of it." Volkswagen is pushing for a goal of complete carbon neutrality by 2050 — this means absolutely no carbon footprint from their vehicles." Nysschen said this was both a "responsibility and opportunity" for Volkswagen. He next described how the current market and technology are ready for electric, and how the demand for EVs is rapidly growing. Volkswagen plans to invest a whopping $6.6 billion in new electric technology and digital era advances by 2023.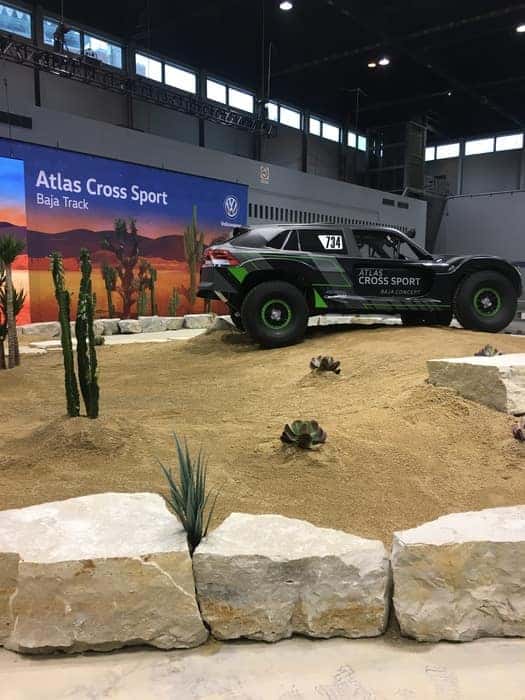 Debut of the 2021 Volkswagen Atlas
The new, reimagined Atlas debuted during the press conference. Attendees were wowed by red, white, and silver versions of the popular VW SUV. The brand is keeping things state-side, and these models will be manufactured right here in America in Chattanooga, TN. Next, Senior Vice President of Product Marketing & Strategy, Hein Schafer, took the stage to dive deeper into the design and performance attributes of the 2021 Atlas. He first highlights that there has been a 32% increase in Atlas sales since 2018, then went on to walk through some of the highlights:
Seating for 7 adults
New and improved driver assist systems
New LED headlights and taillight designs and a bold grille
Standard 20-inch wheels and available 21-inch wheels
An upscale interior with available leather seating surfaces
8-inch infotainment screens standard on all but the base model
Wi-Fi capabilities
Traffic Jam Assist and improved Lane Keeping Assist
4-cylinder engine available with 4MOTION® All-Wheel Drive for the first time
The last highlight was an incredible 4-year/50,000-mile bumper-to-bumper warranty, in addition to two years of care-free maintenance. While pricing has yet to be released, we can expect for the 2021 Atlas to hit stores later in the spring.
Stay in the Know with Volkswagen Of Oak Lawn
We may still have to wait to drive the Atlas Cross Sport of 2021 Atlas, but you just trust Volkswagen Of Oak Lawn near Oak Lawn to keep you updated on all things Volkswagen. Want to know more about upcoming models? Interested in taking a new Volkswagen for a test drive? Whatever it is, you can rely on the team at Volkswagen Of Oak Lawn. Contact us at your leisure or visit us near Orland Park! We'll keep you in the know of all things Volkswagen.