Can I Buy a Volkswagen Bus?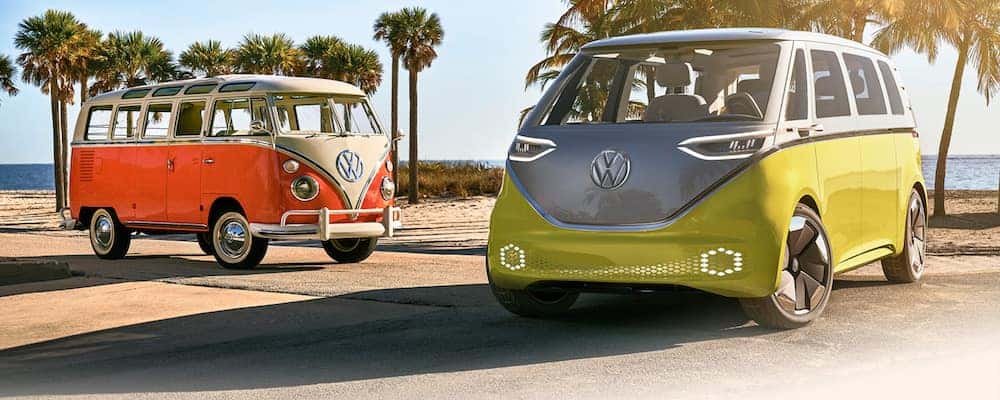 If you're a Chicago driver searching for a Volkswagen Bus for sale, it may be best to search out a dealer who specializes in vintage cars — though we certainly have seen them in our used vehicle inventory before. Even if you do find one of these hidden gems, you will want to bring it to a mechanic who has experience with them — old Volkswagen Bus models can have some unique issues.
Drivers looking for a solution now may be out of luck, but we have some suggestions for how you can get your VW Bus fix without buying one — and a potential future where you might find the successor to the Bus right here.
Rent a Volkswagen Bus
Renting a Volkswagen Bus can be a great way to enjoy the classic style of a VW Bus without the maintenance and general upkeep. Be sure to scout out for the following different versions:
Volkswagen Bus Tent
Volkswagen Camper Van
Volkswagen Hightop Camper Van
Volkswagen Type 2 (T1) Microbus
Volkswagen Type 2 (T2) "Bay Window" Bus
Volkswagen Samba-Bus or Deluxe Microbus
Volkswagen Westfalia Camping Van
You'll find quite a few older VW Bus models have been customized — it might take some of the charm out, but it will make that camping trip a little more practical, too. It's why they're a great vehicle for outdoor adventures near Orland Park with added vintage flair.
Is the Volkswagen Bus Coming Back?
Volkswagen recently announced an electric VW Bus… for 2022. Built off of the I.D. Buzz concept (pictured above), this vehicle uses the VW Modular Electric Drive kit, and will supposedly use the same platform as an upcoming electric SUV based on the I.D. Crozz concept.
The I.D. Buzz concept is capable of a 300-mile driving range and could recharge as much as 80 percent of the battery in half an hour on the VW fast-charge system. While the innovation and engineering is new, you can expect classic styling and even a front trunk.
Turn to Volkswagen Of Oak Lawn for Current VW Models
If you're looking for a new Volkswagen with plenty of room, Volkswagen Of Oak Lawn offers the new VW Tiguan and VW Atlas. If you're more interested in classic Volkswagen models, we occasionally have a retro used Beetle in stock. Contact us at 708-425-8989 for more information, or stop by our showroom near Countryside!
The Volkswagen Jetta is a popular choice among Chicago drivers, and when you take one step inside the cabin of this stellar sedan, it's not hard to see why. No matter which trim level you choose the Volkswagen Jetta interior is loaded with the comfort and convenience features you desire. Let's take a closer look…

Oak Lawn drivers love the unique character and outstanding performance of the sporty 2020 Volkswagen Golf GTI. This beloved Volkswagen hatchback model already comes standard with tons of great features, but it's always fun to upgrade with some Volkswagen GTI accessories to express your personal style! Take a closer look at some of your options for Volkswagen…

Drivers in Oak Lawn on the lookout for a new compact SUV have probably considered a 2020 Volkswagen Tiguan lease or ownership. Whether you opt for the standard trim, the Volkswagen Tiguan SE, or the Volkswagen Tiguan R line, you and your passengers will find a lot to enjoy inside this exciting new vehicle. Read on…